Deluxe Kraft Paper Container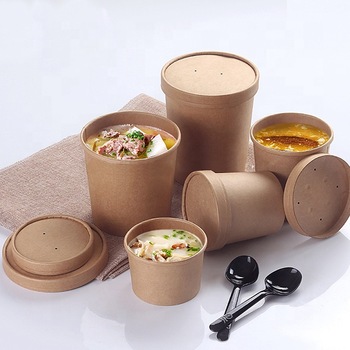 Deluxe Kraft Paper food containers are arguably one of the very best hot or cold food containers we offer! These containers can also be used for storage in the fridge or freezer, perfect for ice cream, frozen yogurt or gelato.
The rim of this container is with a wider, thicker construction for a more elegant appearance, with the same high durability. The lids that fit perfectly with these containers are our kraft paper and plastic vented lids which prevent leaks while allowing the steam to escape.
Showing all 11 results
---

Specification

---

Product Code: 80272

SCC Code: 06282950007405

Carton Quantity: 500 pcs

Pack Size: 50 pcs x 10 pack

Carton Size: Length: 18.25" x Width: 7.80" x Height: 20.50"

Carton Size: Length: 46.36 cm x Width: 19.81 cm x Height: 52.07 cm

Case Cube(ft3 / m3): 1.69 / 0.05

Gross Weight: 4.78 kg

Net Weight: 4.44 kg

Ti x Hi: 12 x 4

Top Diameter: 90 mm

Height: 57 mm